"We live in cities you'll never see on screen. Not very pretty but we sure know how to run things," Ella Yelich-O'Connor, better known as Lorde, sings in the chorus of her song Team. Lorde is an Aucklander, not a Cantabrian, but her lyrics play in my head as I cruise through Christchurch.
I'm here visiting my friend Catarina for a long weekend.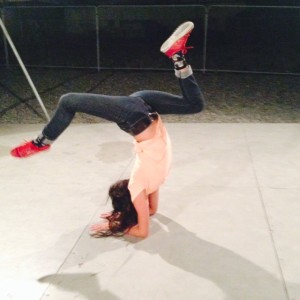 I first came to Christchurch less than a year after the February 2011 earthquake destroyed thousands of buildings and killed 185 people. Apart for a couple of work related trips, my most recent trip was with my mom last November where we witnessed some small semblances of a creative rebuild (a shipping container mall, murals painted on the few tall standing structures left, food truck goodness). However, the lingering four-year-old debris from the earthquake, the white-upper-middle-class snobbery I experienced in some of the restaurants we visited, and the eerie silence of downtown on a Friday night all wrapped me in cloak of despondency that I couldn't shake until I was on the plane out of there.
But Catarina is introducing me to a side of this city I've never met before.
Catarina is a do-er. She's an American who moved to Christchurch about six months ago with her kiwi partner and has done more in her time in New Zealand than I've done in my entire adult life. She's the start-up activator at the Ministry of Awesome, volunteers at community bike shed, writes, and recently started her own press dedicated to publishing new, diverse women authors. She also roasts her own coffee in her garage and dances like a bad-ass (when I ask her to show me her best dance move, she nonchalantly throws herself into scorpion pose). In short, Catarina is the kind of girl who dreams up really rad things and sees them through, which, if you ask me, is the best sort of art a person can master.
She's also the sort of person, among a group of other awesome do-ers, that is making Christchurch one of the coolest places in New Zealand.
Catarina's partner is in Wellington for the weekend so when I visit, I get to cruise around on his refitted retro turquoise and red Healing Cruiser that we can hook a pair of speakers up to its back wheel. At one point, we make a playlist of all our favorite female pop artists and blast it unabashed and unashamed as we ride down the street, which makes me feel the sort of giddy glee that is hard to find as a sober adult. The only time I see the inside of a vehicle is to/from the airport and when we drive through a long tunnel to Lyttleton, a little port town full of locally owned boutiques, bars and cafes. Otherwise, we cycle the city.
It's true that Christchurch isn't beautiful. Not in the conventional sense anyway.
Riding around the empty wide streets from Phillipstown, where Catarina lives, to the central business district reminds me of the deserted industrial parks of my hometown after the economic crises shutdown business after business until half of my city seemed to be nothing more than abandoned empty shells, remnants of failure and quashed dreams.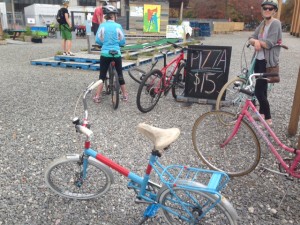 It's still misshapen. Evidence of the earthquake's destruction are everywhere you look. The place is riddled with apartment complexes with their backsides blown out, empty lots, half standing structures that expose fresh coloured insulation, electrical wiring, the innards of the walls we usually keep around us. The once grand Cathedral still lays in ruins. Snapshots of certain street corners could be mistaken for a wartown city that doesn't have the money, energy or political willpower to pick up and put back the pieces.
There's a gaping hole in the CBD, which is still up for grabs. Catarina says the city and its people can't agree what the space will be used for. Some want to fill it with malls, restaurants, places for people to spend money like good little citizens living in a capitalistic society.
But something extraordinary is happening in between the initial destruction of the February 2011 earthquake and the complete reconstruction of another typical retail-laden New Zealand town.
The city's new motto, which is dabbled on signage all over the place, is: It's happening.
That it is.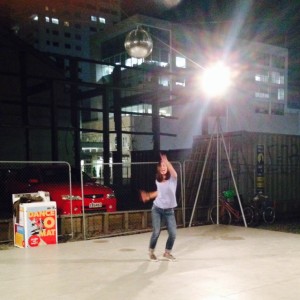 In these empty spaces where buildings and businesses once stood, community projects are popping up and challenging our normal, everyday interactions with one another into something that has little to do with consumerism. In its place is: art, collaboration, playing, building, gardening, dancing, laughing and meaningful conversations and exchanges. None of it centres around profit or commercialism. It is life happening in its most pure form.
The city calls these spaces "gap fillers". This moniker shouldn't be taken as literally as it sounds. Yes, these projects are remedying the eyesore that vacant sites create. But more importantly, they are also filling the empty spaces of our lives with moments of joy and community that we wouldn't experience, particularly right smack in the middle of our downtowns, under "normal" circumstances. These vacant spots are occupied with mini-golf courses, gardens, art installations and outdoor dance floors. The local cycling community is a collaborative bunch of people who get together in an open air lot where they do volunteer repairs and house a shipping container full of old bicycles that the community can refit or pick and pull parts from. A couple of different groups organise public rides and there is a sense that these people are genuinely committed to spreading the cycling love with the larger public so everyone in Christchurch might one day, as proposed, become the cycling capital of world.
Even some locally owned commercial enterprises are using the city's mess to implement unique business models. On Saturday evening, we have a few locally brewed pale ales at a "bar" where booze and burgers are served out of a gutted, full-sized bus and patrons eat and drink under the open sky or underneath tarpaulin hanging from rafters.
Christchurch is rising from the dirt and rubble and mess, and turning into a canvas that the creative innovators and do-ers of the world are using to paint a progressive, collaborative, hip city of my dreams.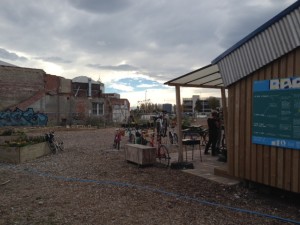 I'll be leaving Christchurch both inspired, and also with a certain sadness. This melancholy isn't born from a sense of hopeless the city once gave me. Instead, the loss I now feel from my visit to Catarina's post-earthquake Christchurch comes from the acute awareness of how novel things like community vegetable gardens, open aired dance floors and shared work spaces are to me. I realise how many of these things are lacking in my own life, and how difficult it might be to find this same sort of community in Wellington. Catarina is a natural go-getter, but living in a city like Christchurch would bring out the inspiration and ambition in anyone.
Why don't we fill every empty space of land with community-built experiences? Why don't we tear down malls and shops and bars to create more spaces that nurture us to go above and beyond the everyday work, consume, sleep, work, consume, sleep habits most of us abide by?
These are all brooding notions that I am now asking myself in hopes that it will activate my own sense of doing-ness.
Because if this town can pick itself up from the edges of disaster and change and become better, so can I, so can we all.