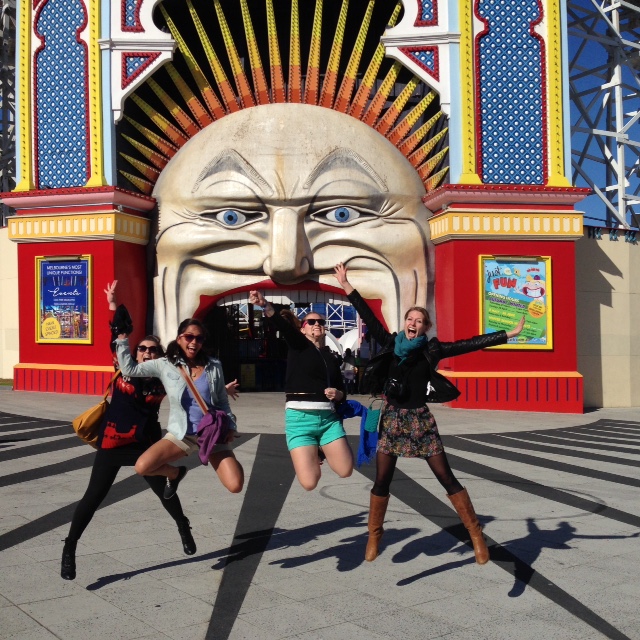 On the day before we catch the red-eye back to Wellington, Mel asks me if I might blog about Melbourne. She said it would be interesting to hear how I had witnessed the city and to compare it to her own experiences.
It's Monday night. Cat and Fiona took a flight back Auckland this afternoon and then there was two.
We're slathering truffled mushrooms, Russian salad, pickled beets and creamy dollops of marinated feta onto pieces of fresh rye bread at a Polish restaurant in the suburb of Windsor. Mel is sporting a new shaved sidecut she got from a hole-in-the-wall salon down one of Melbourne's laneways earlier today, so when she sips her vodka martini, she looks like a bamf.
I feel the sort of exhaustion I only feel when I travel. I've been awake since 5am. Cat and I wandered the dark streets and coastline of St Kilda Beach and talked about the stuff of our lives – how the people and circumstances in it are changing whether we want them to or not – until the sun finally started to streak the Melbourne skyline with pink and orange. Since then it's been a day full of negotiating tram lines, shopping, finding the best places to eat among a city full of eateries, and dropping into a little yoga studio right down the street from our apartment. My actual bones are tired. My feet are swollen. My stomach has been uncomfortably full since my first meal in Melbourne four days ago. My brain can't string together proper sentences. But I am happy. Very, very happy.
I consider Mel's question and what I might say if I write about this weekend. I could write about the food (handmade dumplings and bao in China Town! paprika-smoked baked beans and poached eggs at Dr Jekyll! polenta corn fritters with smashed greens and avocado at the Grain Store! fish tacos and cactus quesadillas in Mamasita!), the yoga (Wanderlust 108, doing vinyasas under the sunshine in a park so full of people I kept kicking/getting kicked in the face, running five kilometres and actually enjoying it), or the vibe of the city itself – a place that has been everything everyone told me it was and more: easy to navigate, artistic, teeming of trendy hipsters and beautifully designed bars, quirky, enough good shopping take a big chunk of four twenty-something girls' bank accounts.
Or I could tell the story of how spending time with these girls here has given me respite from one the most confusing and difficult four months of my life. I might talk about how all these moments together – getting lost, finding our way, crying, deep belly laughing, revealing secrets and life decisions to one another,  learning more about each other in the kind of way that is only possible when you become travel companions – have  filled my spirit with a sense of connection I am thankful for and also, as we all do but so often don't realise, deeply need and deserve.
I've been asking myself lately why it is I write, especially in a public space. This whole blogging thing can feel so narcissistic, cavalier, weird, intrusive, scary. Not many people read my blog (hi Mom!) but if they do then they know parts of me that sometimes feel too intimate and exposed.
However, the more I ask myself what the point of it all is, the more I realise how little choice I have in the matter. I write because I love to write. I'm (sort of) done living a life where doing what I love comes after doing things that bore/underwhelm/frustrate/starve/belittle me.
As Anne Lammott says in her galvanising book Bird by Bird, "writing and reading decreases our sense of isolation. They deepen and widen and expand our sense of life: they feed the soul". These words are wise. These words I live by.
So when Mel asks me if I will write about Melbourne, I say yes, of course I will and in doing so I will discover just how much it and she and the whole damn world means to me.  I will wonder also how she, Cat and Fiona have experienced Melbourne and I will hope they too have felt, if only a fraction, how this place has deepened us, widened us, expanded us.
And I will share my words here because I want to build bridges between myself and the many people I have met and loved all over this planet. Because I want to be heard. Because I want to open my heart up. Because I want to connect.
Don't we all?